…A shot of the boats and relevant festivities taken from the top of Heinz carpark by the docks.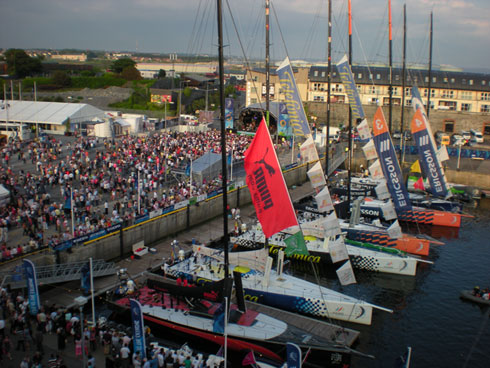 This was taken about half an hour before Sharon Shannon came on stage so even though it looks like there were lots of people there, it is nothing compared to what it was like later. You can see the nose of the Irish/Chinese boat, Green Dragon, near the top of the picture.
Take a better look at 'the village' here. The Village is where the oil tanks used to be. They knocked them down to make room for marina activities and from what I can tell, it's been a huge success. Hopefully they will use it as a main point of focus for the Arts Festival in July.
It wasn't all boats yesterday… I knit some sleeve.
Unfortunate but necessary. It will be three-quarter length, even though it doesn't look it now, and I'm going to knit the sleeve cap flat and sew it in. Honestly, the thought of the sleeve cap is the only thing keeping me going through the sleeve… which is a good thing because if I picked up stitches around the armholes and knit the sleeve cap, I would have absolutely no interest in knitting the rest of the sleeves!
I think all there is in store today is a stroll on the prom… I think I have enough time to practice before Sleeping Beauty wakes up! Have a great sunny Sunday!