It makes me sad that all people know Amsterdam for is the Red Light District. We took a brief walk through it but have been happily enjoying all the other beautiful and unique things the city has to offer.
There are interesting details in almost all aspects of metalwork throughout the city. From what we saw in the Rijksmuseum, this seems to be in keeping with their marvellous tradition of silversmithing.
We have been exceptionally lucky with the weather. Yesterday, it was sunny all day so in the evening, we had a picnic in Vondel Park, just like everybody else!
Today, we rented bicycles and covered a lot of ground. We cycled in a large ring around the city centre. The Botanical Gardens were our first stop.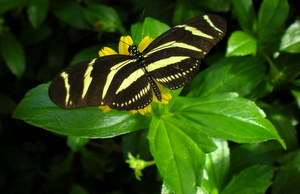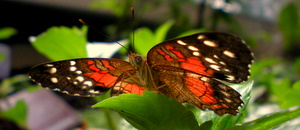 I probably should tell you that we were in a glasshouse that bred butterflies! I was surprised how tame they were… I was able to go right up beside most of them.
After a quick visit to the modern art museum, we cycled back by De Afstap. A beautiful shop, it stocked an impressive array of Rowan yarns and needlework supplies.
Along the same canal is Knopenwinkel. As you can probably guess, it is a button shop! I spied it on the canal tour we took and looked it up later.
We are off to Bangkok tomorrow. We stop for half a day in Helsinki but are as yet unsure of whether we will have enough time to venture into the city. I'm not looking forward to the long flight but I have plenty of warm memories from Amsterdam to keep me going!