We travelled 700km north to Chiang Mai, a city a little bigger than Galway, on Sunday. We took a 13 hour overnight train which was an experience in itself. Travelling second class, we had private bunks in a shared carriage of about forty people. We passed the evening with some German backpackers and although the bunks were extremely comfortable, nothing could disguise the fact that it was like sleeping on top of a washing machine!
It was a relief to escape to Chiang Mai because it was so much more chilled out and slow-moving than Bangkok. The city is centred around the old city, which is full of temples – about three to every block. Alb really regretted not buying What Wat? before starting out on our little tour of the place.
We took a day trip to one of the National Parks to the south of the city. We trekked through some rainforest and visited two small hill tribes, the Hmong and the White Karen. The Hmong have wonderfully cross-stitched costumes, whilst the White Karen are renowned for their weaving.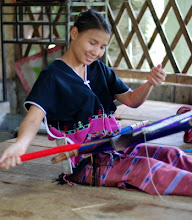 The White Karen are so called because young women wear white overalls before they are married. The tribe is related to the Red Karen, or the long-necks. As we were limited to three days in Chiang Mai we had to pass up on a trip to the Red Karen tribe but from what we heard from other travellers, they are exhibited like a human zoo. At least with the White Karen, we saw how they lived without disturbing them and there was no pressure to buy anything off them.
Yesterday was Alb's birthday so we went to an elephant park. He was mad to have a go on one and I was really not… but I have to say – I'd ride an elephant before I'd ride a horse any day.
The baby elephant you see here was five months old and came up to my waist. I was petting him for about thirty seconds before his trunk went right up my fisherman pants, curled the material up in his snout and started to pull the pants right off me! (Note to self: fishermen don't use elephants for a reason) Ah, they were great. The mother would send her trunk your way looking for bananas… and when I mean looking, I mean hoovering up everything in your general direction. From what we could tell, they were very well treated. Each elephant had its own trainer and the guy who took us on our spin through the forest talked a lot to his.
Afterwards, we visited an orchid, butterfly and snake farm. I have never been a fan of snakes but I figured that if I can get up on an elephant, I can touch a snake. This guy is a four month old python.
When we got back to our hotel, the staff had left Alb a birthday card on his bed, along with a small cake, cake slice, plates and forks, candles and a lighter. Nice end to the day, eh?
"Mr Albert">
More photos here.